Our lineup for the 2023 St. Petersburg Jazz Festival:


TBA
Thursday, February 23
7:30 PM
 
Zach Bartholomew Trio - The Chick Corea Tribute
Friday, February 24
7:30 PM
St. Petersburg Museum of Fine Arts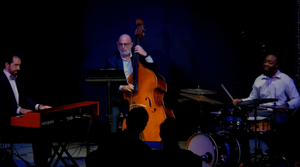 Join award-winning pianist Zachary Bartholomew and his trio (Paul Gavin, drums; Mauricio Rodriguez, bass) in the St. Petersburg Jazz Festival as they deliver a captivating concert remembering legendary jazz icon Chick Corea.
Chick Corea is known as one of jazz's greatest pianists and composers, and this concert will feature his musical compositions spanning from the beginning to the end of his career. Dr. Zachary Bartholomew is an award-winning jazz pianist, composer, and music educator who maintains an active performance career. In both 2016 and 2017, he placed as one of the top three finalists in the highly acclaimed Jacksonville Jazz Piano Competition and has since been featured as a performer, composer, and bandleader at various jazz festivals, including the Jacksonville Jazz Festival, Monterey Jazz Festival, Jalisco Jazz Festival, and Festival Miami, among others. Presented by EMIT and the Museum of Fine Arts. Admission is $25 for the general public.
TBA
Friday, February 25
Helios Jazz Orchestra

 
The 18-member Helios Jazz Orchestra is directed by Dr. David Manson. The big band has performed on the Clearwater Jazz Holiday, Ybor Jazz Fest, WMNF Jazz Fest and has backed singers Kevin Mahogany, Alexis Cole, Kathy Rosins, Fred Johnson and many other guest vocalists.